Kai Grinde Myrann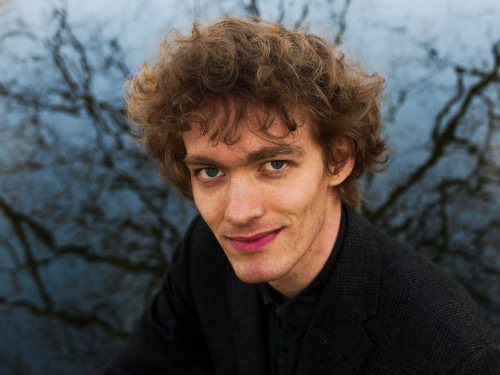 Kai Grinde Myrann (b. 1987) has studied composition and conducting at the Norwegian Academy of Music, tutored by i.a. Ole Kristian Ruud. His final master's degree concert was held in 2013 with the Norwegian Radio Orchestra, featuring "The Rite of Spring". 2013 to 2015 he held the position as assistant conductor both in the Bergen Philharmonic Orchestra and the Stavanger Symphony Orchestra, where he conducted many concerts and cooperated with profiled conductors. Since 2015, he holds a scholarship as conductor at the Arctic University of Norway.
Myrann has conducted most of the professional orchestras in Norway, Sønderjylland Symphony Orchestra and Storstrøm Symphony Orchestra in Denmark, and also ensembles like Oslo Sinfonietta, the Staff Band of the Norwegian Armed Forces and Ensemble Ernst. In 2010, Myrann, together with the composers Martin Rane Bauck and Martin Ødegaard, established Aksiom, an ensemble for new music for which his is still the chief conductor. He has also conducted the children's opera "Lillebror og Knerten" in the Norwegian Opera and Ballet, and larger productions for choir and orchestra like "The Messiah" by Handel and "The Creation" by Haydn. 2011–14 he was leading the Norwegian section of Young Nordic Music, which among other things arranged a festival in Oslo where pieces by 35 young Nordic composers were performed.
Alongside the orchestral activities, Myrann has been active in choirs, both as a singer in well-reputated choirs as Christiania Mannskor, Grex vocalis, Ensemble 96 and ensemberlino vocale, and as conductor for LillCanto from 2009 to 2012.
Myrann has completed a bachelor's degree in composition at the Norwegian Academy of Music and as exchange student at Hochschule für Music "Hanns Eisler" in Berlin. In his music, which has been performed by ensembles like Oslo Sinfonietta, Ensemble Allegria, Avanti!, Aksiom, SKARK and Modelo62, he often seeks the borderline between static soundscapes and swarming complexity, and he shrinks from neither fragile contemplations, nor expressive outbursts. A long-term collaboration with the choreographer Signe Alexandra Domogalla has resulted in a number of pieces of incidental music.
Kai Grinde Myrann is represented by On Stage Management.
Warning: sort() expects parameter 1 to be array, null given in /customers/9/d/8/kaimyrann.no/httpd.www/en/home.php on line 114 Warning: Invalid argument supplied for foreach() in /customers/9/d/8/kaimyrann.no/httpd.www/en/funksjoner2.php on line 40
Next concert:
Time:
Place: More info