Kai Grinde Myrann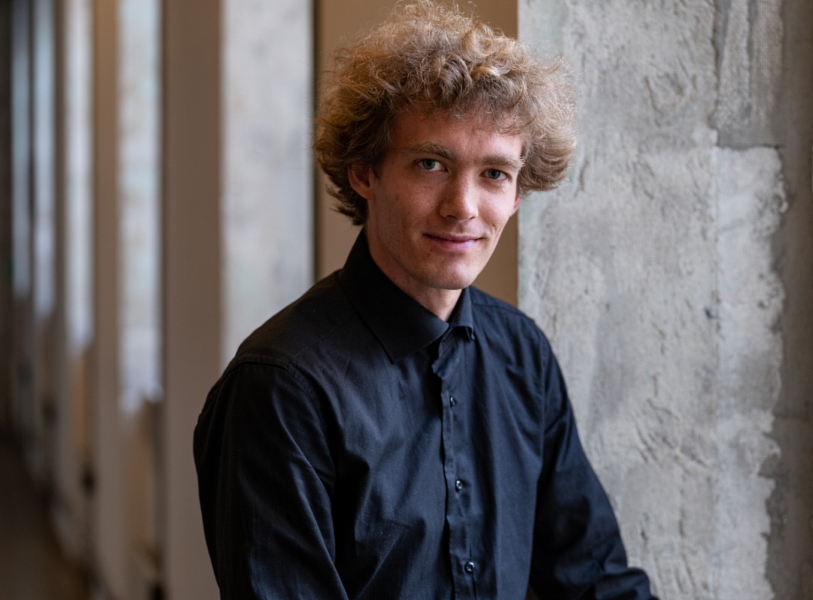 Kai Grinde Myrann has in a very short time established himself as one of his generation's most talented conductors. He has already conducted all of the Norwegian professional symphony orchestras and military bands on numerous occasions. He has also conducted some Danish orchestras and several smaller ensembles and choirs. After graduation from the Norwegian Academy of Music with a Master's Degree in conducting in 2013, he immediately won the positions as Assistant Conductor both in the Stavanger Symphony Orchestra and in the Bergen Philharmonic Orchestra. Then he held a scholarship in conducting at the Arctic University in Trømsø. From 2021 he is part of Talent Norge's carieer launch programme Opptakt.
Myrann is the artistic director of Aksiom, an nine-man strong ensemble for new music that he co-founded in 2010, and he has lead the ensemble into becoming a sought-after ensemble in the Nordic contemporary music scene. He is also the conductor of Ensemble Temporum, an ensemble founded in 2016 specializing in classic masterpieces of the contemporary music repertoare. Holding a Bachelor's Degree in composition from the Norwegian Academy of Music and Hochschule für Musik "Hanns Eisler" in Berlin, and with his conducting experience, Myrann is a trusted interpreter of contemporary music.
Myrann's discography is recently extended with several releases of contemporary music, and is now comprised of recordings with the Norwegian Radio Orchestra, Trondheim Symphony Orchestra, Trondheim Sinfonietta, Aksiom and Ensemble neoN, and and additional releases are in the offing with among others Nordic Voices.
In 2014, Myrann finished the Princess Astrid International Music Competition with a place in the semi-final, being the best among the Norwegian cometitors. 2011–2014, Myrann was the Chairman of the Norwegian board of Ung Nordisk Musik, which in 2013 arranged the festival in Oslo, featuring music written by 35 young Nordic participatin
Kai Grinde Myrann is represented by On Stage Management.
Next concert:
Aksiom at Periferien
Time: Week 40, 2023